Johnson & Son is your Niagara HVAC specialist for commercial, industrial and residential HVAC system installation and maintenance.
---
We also provide services for any gas powered equipment, including hot water heaters, air-conditioners, furnaces, pool heaters, fireplaces, BBQs, and more.
You can trust the Johnson & Son team with all your home heating and air conditioning needs.
Our courteous team of HVAC service and maintenance professionals comes with decades of maintenance and installation experience. We'll make sure you get the right HVAC system for your home, and for your budget.
30 years of installation, maintenance and repair experience.
For more than 30 years, the HVAC pros at Johnson & Son have been keeping Niagara residents comfortable in their homes, providing professional installation and repair of home comfort systems, including furnaces, air conditioners, fireplaces and more.
Our certified technicians are experts in the evaluation, diagnosis and repair of industry-leading residential and commercial heating and cooling systems.
Customer satisfaction is always our first priority.
We guarantee customer satisfaction with our premium products and services. Over the years, we've worked hard to earn our solid reputation for excellence in customer service.
The result? Time after time, we deliver the right HVAC systems for our clients' unique premises, on time and on budget.
---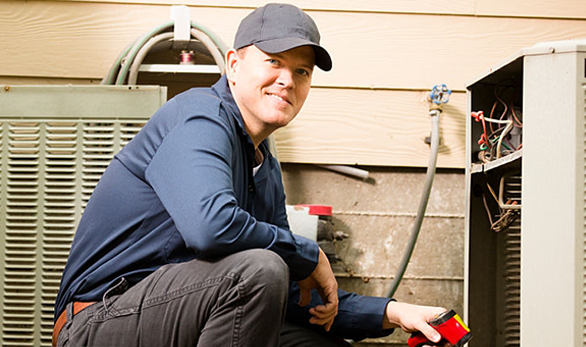 No rush, no pressure.
We understand that the ins and outs of heating and cooling home comfort systems can be a bit overwhelming for many home owners.
With Johnson & Son, you can take your time, and make an informed decision. We'll work with closely with you as you explore your options and choose the right heating and cooling solution for your needs.
We also  provide no-risk estimates for all HVAC products and services, so that you can get you the information you need to make the best choice for you — free of charge. 
Courteous & efficient service.
Whether you have an emergency or you simply want to move quickly, we're ready to go when you are. Need us on a weekend? After hours? We'll be there.
---
We'll make sure your project stays on budget.
Heating and cooling systems can be a big expenditure for home and business owners. To help our clients get the home comfort system they need to keep them comfortable, no matter the weather,  we offer a variety of payment options, financing, and special rebate offers to suit any budget.
Ready to get comfortable? Contact Johnson & Son today for a FREE quote.
---